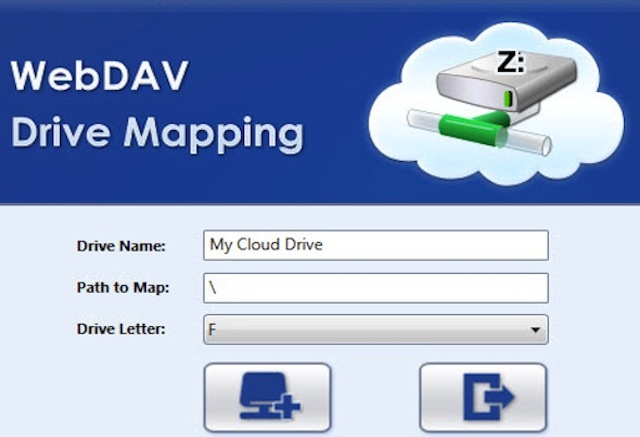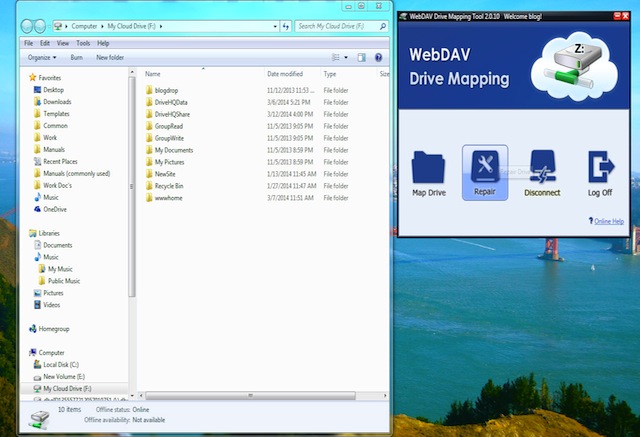 WebDAV Drive Mapping For Enterprise
Folder sync that has been popularized by Dropbox is very convenient for consumers. Box, Google Drive and other popular providers have followed suit by launching similar sync services. Due to its popularity among consumers, many employees have brought attention to the service within their business. However, such consumer sync services are NOT optimized for business; as they lack fundamental components that are required for advanced management/user collaboration. As the company gets larger, the simple sync solutions created by these providers become harder and harder to manage.
The problems with consumer folder sync services
• You can only sync a special folder such as "Dropbox", "Drive", etc.

o You cannot select any folder on your computer and sync it with the cloud, e.g. you cannot sync the "My Documents" folder;
o You cannot select multiple folders on your computer and sync them with multiple folders in the cloud;

• You cannot create one-way sync;
• You cannot filter certain files / subfolders from being synced;
• You cannot create multiple sync tasks;
• You cannot schedule your sync task to run after hours or on weekends;
The biggest problem of using consumer folder sync service in an enterprise setting arises when you consider the security, network performance and management shortcomings.
Security Issues
• Folder sync causes business data to be replicated to all computers or devices that have been setup with the service. Such data usually should only be kept on a central server for better protection. As it gets to employees' personal account or device, your company data is usually much more vulnerable than with a file server behind corporate firewalls / routers.
• When an employee leaves a company, it is impossible for the company to delete business data from his personal account or personal device, as it has already synced to his personal sync folder;
• Consumer folder sync lacks fine granular access control, and often is synced to many users, or even to the entire team, increasing the risk linearly.
Management Issues
• It is much easier for IT admin to control business data on a central file server than having to manage them from hundreds of PCs, tablets and mobile devices.
• When files are synced to hundreds of devices both in and out of the office (hence some of them are not always connected), it will create an overload of file versioning and overwriting problems.
Network Performance Issues
• Using consumer folder sync within a business will dramatically increase your network usage. Take for example an office with 50 people using a consumer folder sync service to sync a business folder:

o If a user updated a file of 100MB, then it will be synced to 49 other computers, it creates almost 5GB of downloads ( in reality, you probably only need to share the file with 1 or 2 other users).
o If a couple of users doing this just a few times, your Internet will be boggled down, or you will have to order much faster Internet connection.

Instead, use an Enterprise-class Cloud File Manager, File Server or Folder Sync Service

When we designed DriveHQ's Cloud IT Service, we focused on enterprise usage demands. Instead of relying on folder sync, we created an extremely robust and efficient FileManager client. FileManager bridges the local and cloud storage, making cloud files just like local files. You can easily drag and drop cloud files and folders, or directly edit cloud files as if they are on your local drives. These all work as easily as folder sync, without the problems mentioned above.

FileManager also includes other enterprise features such as sharing folders to different users, sub-groups or contact groups with different access permissions. Moreover, data can be encrypted using client-side encryption, which delivers the ultimate security and privacy that enterprises need.

For users who truly need folder synchronization, DriveHQ FileManager supports enterprise folder sync, which is far more efficient and secure than consumer folder sync services. In fact, any problem mentioned above has been addressed in our enterprise folder sync. Usability-wise, it adds just one step

• Simply select a local folder and click "Synchronize" to create an automatic sync task with a cloud folder. In addition to solving the above problems, FileManager's enterprise sync can sync folders on an external drive or network mapped drive; it can even sync a group shared folder and folders in multiple accounts.

Cheap storage from consumer sync service providers?

Consumer sync service providers (incl. some of the largest cloud storage providers), like to tout how cheap their storage is. In reality, there are a few major issues here:

(1) Cheap storage is used as bait to lure users with the hope that some of them will use it for business later. However, their business service is priced based on user licenses, which is far more expensive than their storage space. In terms of total cost, their price is much higher than DriveHQ's.
(2) While many consumer cloud services offer generous amount of cheap storage, in truth, it is misleading:
You don't need a lot of storage space per user. In fact, business users usually need less storage space than consumers. Most businesses need no more than 5 to 10GB of storage per. Essentially, they offer you lots of cheap storage space that they know you will never use.
Cheap storage is used to hide the high price of their user licenses. With most listing prices at $180/user/year with a few at $50-$100/user/year, their user licenses are 8 to 30 times more expensive than DriveHQ's.
If your business actually needs a lot of storage space, consumer sync services just do not work, e.g. if you have 1TB of data and 100 employees … for that 1TB of data to be synced to 100 computers, not only will it boggle down your Internet connection, but it will waste about 1TB of storage space on each computer (that is close to 99TB). Not to mention, older computers that don't have enough free storage space cannot be synced to this folder. In this case, the best solution is to use DriveHQ FileManager or DriveHQ's Enterprise WebDAV Drive Mapping service.