Drive
HQ
- the First Cloud IT Solution Provider
The Price War on Business Cloud Storage Service - DriveHQ Business Bundle Plans
The end of price war on Consumer Cloud Storage Service
In the cloud storage service industry, consumers have noticed a steady drop in price for cloud storage. With the providers endlessly competing over the lowest price for raw storage, we are quickly seeing the cost of cloud storage sprint toward zero. Does this mean the end of the cloud storage price war?
For consumers, it seems as though the dream of free "unlimited" cloud storage will become a reality; however, the price war for businesses has only just begun.
Understand the pricing of Business Cloud Storage Service
Over the past few years, the pricing model of Business Cloud Storage has changed dramatically. Storage has become less important in the pricing scheme, which has created the false impression that the service price was also falling quickly.
In truth, the change in consumer storage pricing has resulted with an increase in business user pricing, working against businesses requiring a large set of users. Many tech editors continue to publish reviews based solely on the price of storage, when clearly the criteria should be the annual Total Cost Per User (TCPU) and Quality of Service (which includes support, security, and high-end business features). There has never been a price war for Business Cloud Storage Service!
DriveHQ is here to make cloud solutions more affordable for businesses
Since 2003, DriveHQ has focused on offering cloud services for businesses. We are better known for our high-quality business cloud services, rather than our consumer services. We saw the price of consumer cloud storage going toward zero many years ago, and we have mainly stayed away from that market so that we can better focus on the business market. Without the burden of loss-making consumer service, our business service pricing is the lowest in the industry.
Take advantage of the Business Cloud Storage Price War
When there is a price war, you benefit. You just need to avoid the common mistakes. Don't be fooled by the low storage price for consumers, look for the Total Cost Per User for business and Quality of Service.
DriveHQ has recently launched new Business Bundle Plans that can save businesses thousands of dollars per year. The new plans bundle user licenses and storage space for a TCPU that is as low as $20/user/year. There is no way our competitors can justify their prices! Please read the comparison chart below: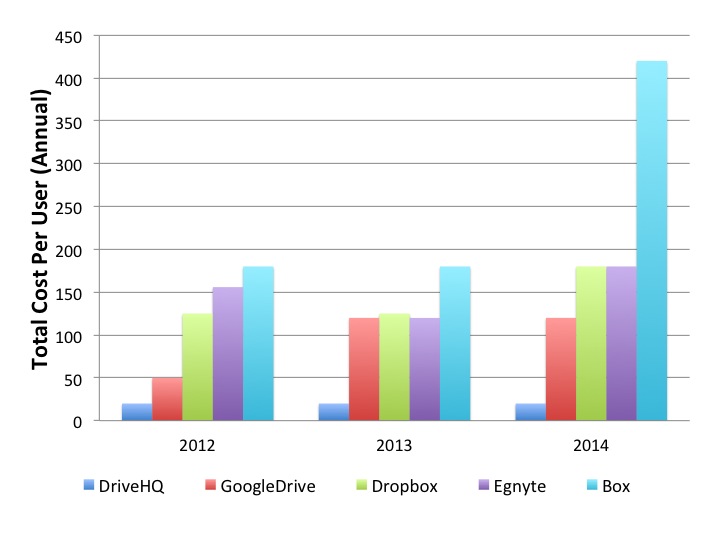 As you can see, the price gap is huge! Whether you use an in-house file server or another cloud service provider, the new price war will dramatically lower your cost while offering a better solution.
Based in Silicon Valley,
DriveHQ
has offered Cloud IT service since 2003 with over 2 million registered users. In 2012, DriveHQ launched
CameraFTP.com
, the revolutionary Cloud Surveillance and Storage service starting at only $1.50/camera/month.